Apple breaks new ground in performance with the Mac Studio
One of the most compact desktop computers out there puts every tower beast to shame - but… how?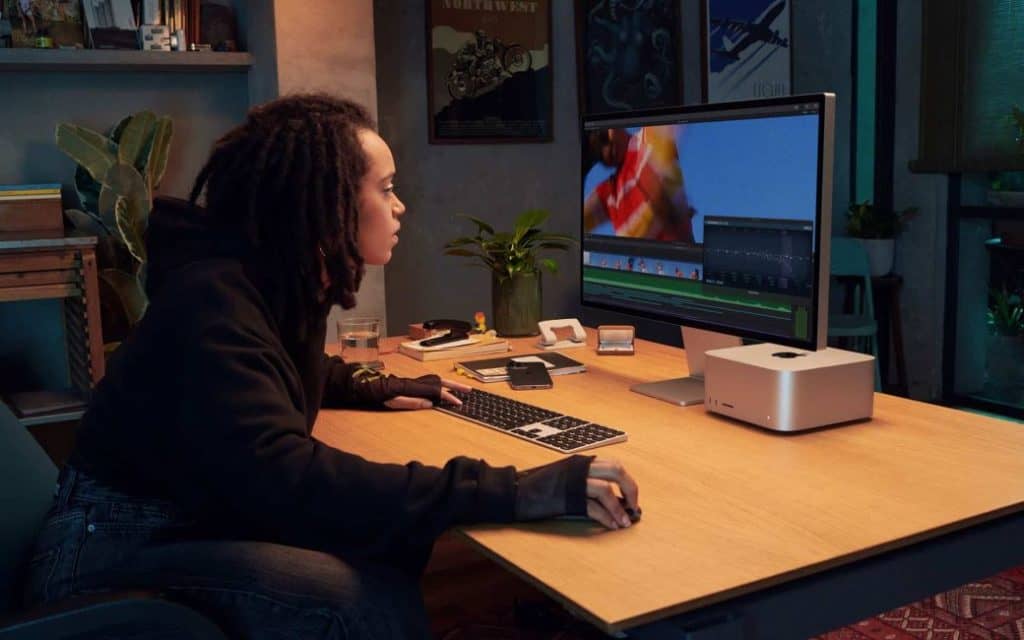 It turns out that, sometimes, Apple's event invitation cards lead exactly to what its often excessive marketing efforts imply — and this is one of those times: the Cupertino giant promised the tech world a leap in performance a few days back and seemingly delivered just that, and more, with its new processor and desktop computer. The company announced the M1 Ultra, its most powerful chip yet, and the Mac Studio, a desktop model of Mac Mini footprint and aesthetics but based around the M1 Ultra for unheard-of performance aimed at demanding professionals.
The M1 Ultra is deceivingly easy to describe: it is a processor made out of two M1 Max chips (Apple's most powerful up until today) combined in a specially-designed package containing their interconnect circuitry (named UltraFusion) as well as up to 128GB of unified memory. The beauty of this design is that it was laid out like that from the beginning (there have been rumors on the Web about a dormant interconnect in the M1 Max chip for some time), so this arrangement of two separate chips appears as one chip to software. This means that the operating system and applications do not have to be re-programmed in order to use the extra power of M1 Ultra, a big plus in the world of professionals.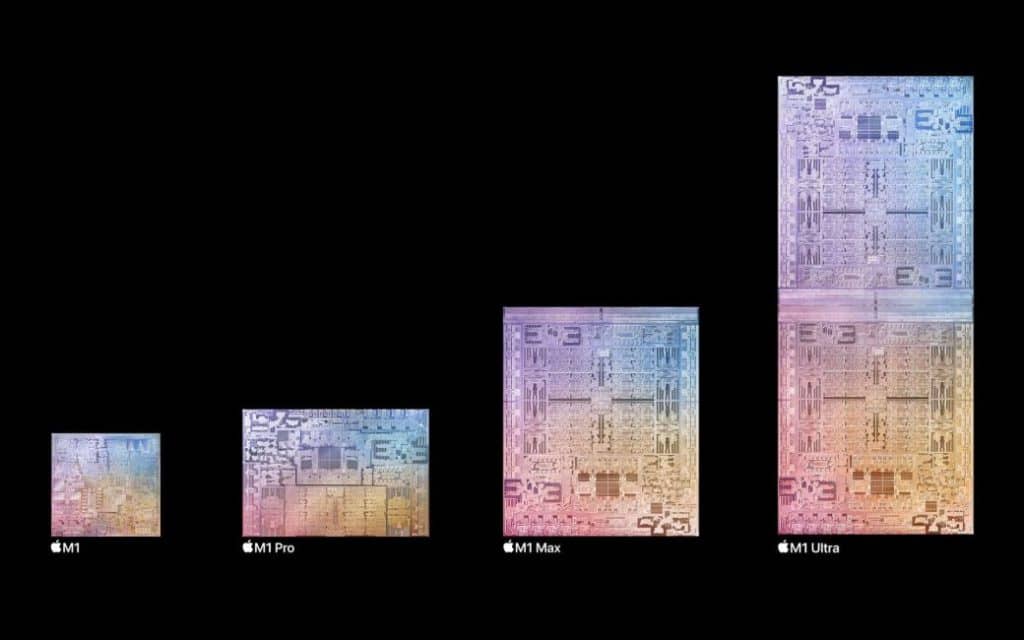 As for what kind of extra power we are talking about? Well, we'll just have to wait until tech journalists put the new processor to its paces with real-life applications, but what Apple promises for the M1 Ultra in terms of performance (let alone performance per watt) is nothing less than groundbreaking: this chip absolutely demolishes most of Intel's and AMD's latest CPUs of comparable or greater core/thread count, as well as most of nVidia's and AMD's most powerful GPUs, while consuming much less power. The chip comprises of 114 billion transistors while its unified memory sports no less than 800 GB/s of bandwidth. For a consumer product, these numbers are staggering.
The first product built around the M1 Ultra is the Mac Studio, an extremely powerful Mac that somehow fits into the chassis of a typical small factor PC. For the Mac Studio Apple has implemented a simple but smart cooling solution that does not take a lot of space and should be silent in operation under anything but the heavier loads. The Mac Studio offers plenty of connectivity mainly based on Thunderbolt and USB-C, as well as 10-Gigabit Ethernet and an SD-card slot (both invaluable to photo and video pros) along with HDMI and a high-impedance audio jack. The Mac Studio costs a not inconsiderable $3999 for its basic M1 Ultra configuration with 64GB of RAM and 1TB of storage, while its version based on the M1 Max chip instead of the M1 Ultra is much cheaper, starting at $1999.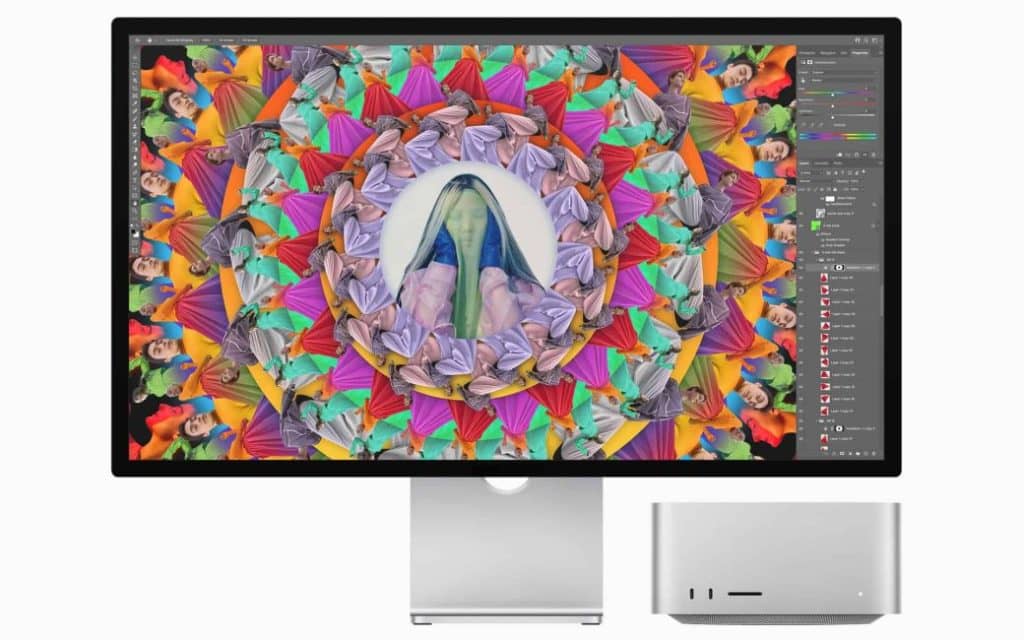 The "Studio" branding was, of course, too good for Apple to not make good use of — that's why during the same event a new Studio Display monitor was revealed. It is elegantly designed and built around a 27-inch, 5K resolution screen of decent brightness and wide color gamut, all of which should be enough for many professionals (the much more expensive Pro Display XDR remains Apple's top-of-the-line monitor). The Apple Studio is impressively more capable than the XDR in the multimedia department, though, as it incorporates a quality six-speaker sound system, a 12 Megapixel ultra-wide camera and the iPhone's A13 Bionic chip (!) to control picture and sound during video calls (the Center Stage function is fully supported). It sports Thunderbolt/USB-C connectivity and costs $1599.
In other product announcements, it was business as usual: the new iPhone SE offers the latest A15 Bionic chip and 5G connectivity starting at $429, while the new iPad Air is built around the same M1 chip last year's iPad Pro was and sports a 12-Megapixel camera on the front for Center Stage-supporting video calls. This upgraded iPad Air starts at $599 for the Wi-Fi, 64GB model. But, in all honesty, it was the unveiling of the M1 Ultra chip and the Mac Studio desktop computer that impressed people the most — and rightly so: these are noteworthy technological achievements and proof that Apple's transition to product lines based on its own silicon is one of the best choices the company has made under Tim Cook. To think that the company teased a more powerful chip configuration than the M1 Ultra for its inevitable new Mac Pro introduction is just mind-blowing. Keep your foot on the gas, Apple!