Intel getting Thunderbolt 5 ready for 2024
Double the bandwidth, more use cases, an even wider range of connectivity options promised to pros and gamers alike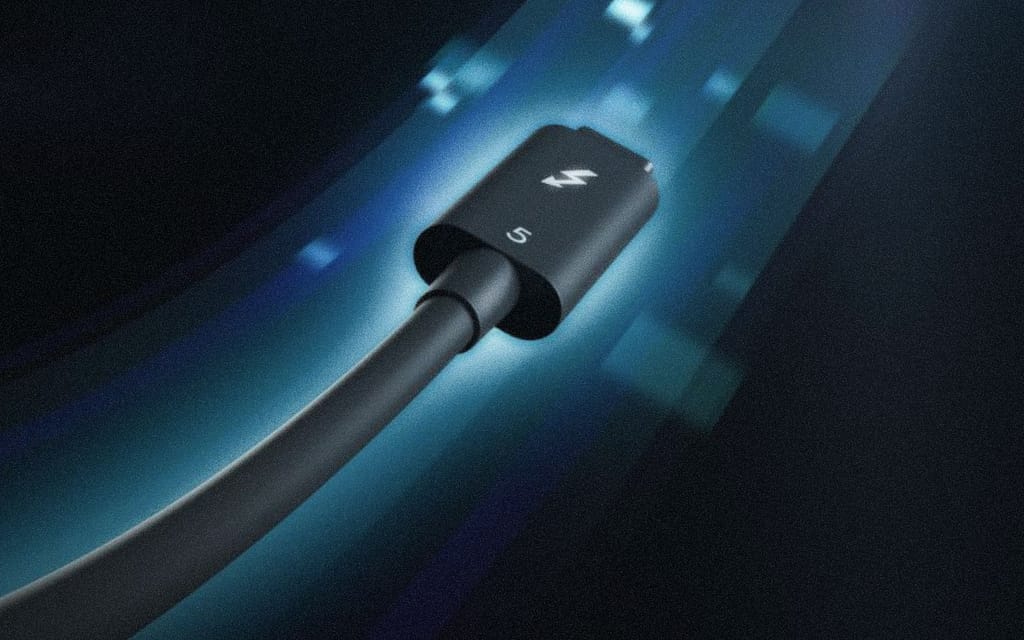 It's no secret that Intel has been working on the next generation of Thunderbolt – probably the most capable wired connectivity standard in the market – for some time. The company has hinted as much itself since last year, in fact, promising to effectively double the current bandwidth of Thunderbolt 4 to about 80 Gbps (more or less in line with what the upcoming USB4 2.0 standard is targeting). Intel shared more details recently, outlining its lofty aspirations for Thunderbolt 5 and announcing that hardware developers can start working on TB5 devices as soon as Q4 2023.
The next-generation Thunderbolt specification will be able to support up to 120 Gbps (!) of bandwidth in specific scenarios, as the company aims to greatly expand its range of use cases. Under standard operation Thunderbolt 5 devices will be offering bidirectional transfers at 80Gbps, doubling Thunderbolt 4's performance. Thunderbolt 5 will be able to switch to an alternate mode, though, designed for even more demanding use cases, which allows for 120 Gbps transmission while receiving at 40 Gbps. Intel has yet to finalize the exact specs of this option and expects that, at first, it will be limited to Thunderbolt 5 cables of 2 meters or shorter in length.



What Intel seems pretty certain about is the wide range of connectivity options eventually available for storage, displays and other hardware based on the next generation of this standard. While, for instance, a Thunderbolt 4 connection can manage up to two 4K/60Hz monitors at once, the company expects its successor to handle dual 4K screens at 144Hz and even dual 8K screens (although their refresh rate was not confirmed). Thunderbolt 5 could, in theory, manage refresh rates up to 540Hz on a single monitor, obviously depending on its resolution. PC users will also be glad to know that the next version of Thunderbolt will be offering up to three DisplayPort 2.0 streams at once, handy for easy multi-monitor setups.
Judging from the Media Deck offered to journalists (PDF file), Intel believes that this upgrade will also encourage gamers to use Thunderbolt for external graphics cards, allowing e.g. laptops to benefit from powerful GPUs normally designed for desktop use. To that end, Thunderbolt 5 fully supports PCIe 4.0 connections (some PCIe 5.0 devices might exceed its bandwidth though). Power delivery is another area where consumers should see significant improvement through Thunderbolt 5: it can deliver up to 240 Watts (!) to certain devices, compared to the current standard's 140 Watts, enabling faster charging in the process.



As expected, Thunderbolt 5 will be backward compatible with Thunderbolt 4, Thunderbolt 3, USB4 and USB3. Computers and accessories based on Intel's Thunderbolt 5 controller (currently codenamed Barlow Ridge) will be available at some point in 2024 and all products "will be going through a stringent certification process" before coming to market. Products that get certified will be able to use the Thunderbolt branding royalty-free, just as they do now. Intel anticipates that creative professionals, content creators and gamers will be the earliest adopters of the new standard, followed by workstation users in 2025 and beyond.