Choose the Perfect TV 2022: Which Smart TV platform to go for?
Four options with a number of differences between them, here's what's worth keeping in mind
It's safe to say that – 2022 being a FIFA World Cup year and all – there will be literally millions of consumers over the next few weeks and months looking to buy a brand new television. It would be great for all those people to have a general idea of the basics of the three different display technologies available in the market today – as well as understand how their viewing habits and the lighting conditions of the room that TV is placed in will affect image quality – before even start looking at any specific models. Consumers who are after what many call "the cinematic experience at home" should also decide how big a TV they actually need and how close to it they'll be sitting, while choosing between a 4K TV and an 8K TV could probably save them a lot of money, as the 8K models still command a price premium.
Then it's time to discuss specific use cases, as different types of TVs can do a better job than others when it comes to sports viewing, to film watching or playing video games. What makes for a sports-friendly TV has already been answered, "cinematic TVs" come with their own checklists while "gaming TVs" are clearly defined by specific features, so it's time to talk software. As in, the software that modern TV sets run on, the one that makes them Smart TVs: a proper operating system that runs apps of all kinds. There are four major TV operating systems in the market right now and a few less important ones. Choosing between them is not quite as simple, so let's break it all down.
Smart TV basics and the main contenders
Although choosing a new television based on its operating system is not something many people will do – picture quality, build quality, image processing and expandability are all more important factors to consider –  the fact of the matter is that having to live with a TV set that is not fast to operate, does not have access to many content sources or does not do what its owner needs it to do in terms of functionality can be extremely frustrating. So, what TV operating system options do consumers have right now and how do they compare?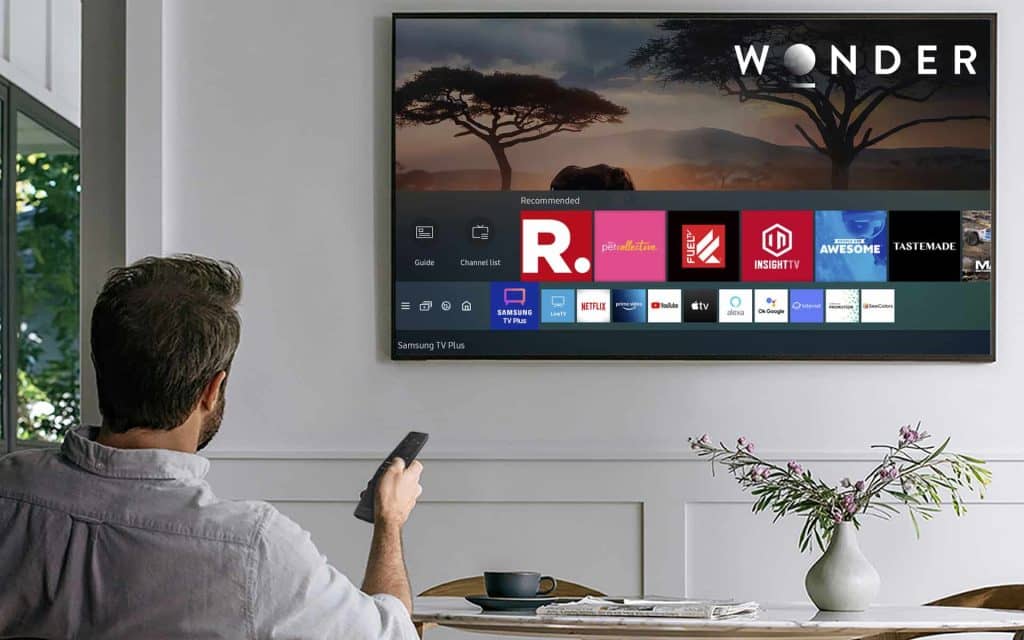 There are currently four Smart TV operating systems found in most new TV sets: Android TV, Google TV, WebOS and Tizen. These are all pre-installed and cannot change, meaning that the operating system that comes with a new TV will always be that set's Smart TV platform and can't be replaced by another. These operating systems have access to the Internet, can be updated just like computer operating systems and run a wide range of apps, just like smartphones (but apps are obviously built for the big screen). Apps are also updated through the Smart TV platform they run on.
Broadly speaking, each operating system is championed by a specific manufacturer or manufacturers (some even belong to specific ones). Tizen belongs to Samsung, for instance, so this is the one powering almost all of its Smart TVs. WebOS belongs to LG (after it was acquired from HP/Palm) so it powers most of its Smart TVs as well. Google's Android TV is used by various manufacturers including Sony, Sharp, Philips, Hisense and TCL for many or most of their Smart TV models. Google TV is the successor of Android TV, it's based on the same code and running the same apps and it's currently used on many Sony, TCL and Hisense models.
There are a few other TV operating systems in use but they are less important for a variety of reasons. There's the Roku TV platform (found in a number of TCL and Hisense TVs), there's the FireTV platform (found in most Amazon and some Toshiba or Hisense TVs) and the My Home Screen platform (based on the Firefox OS and found in many Panasonic TVs only). All these are nowhere near as mature, complete in terms of app selection or performant as the main four Smart TV OSes mentioned earlier, so making a choice based on those is not advised. The TVs powered by these platforms can be of course purchased for other reasons, such as image quality, but definitely not for their OSes.
The Smart TV Korean Wars: WebOS and Tizen
LG's WebOS was one of the first Smart TV OSes to appear in the market and has gone through many, many iterations before getting to this year's version 22. Its user interface is even more "busy" and somewhat slower compared to the previous year's version (which replaced the popular "cards" system with a more streamlined icon-based one). It is still fast enough and the LG Content Store offers a wide variety of apps –  most free, some paid-  that are regularly updated.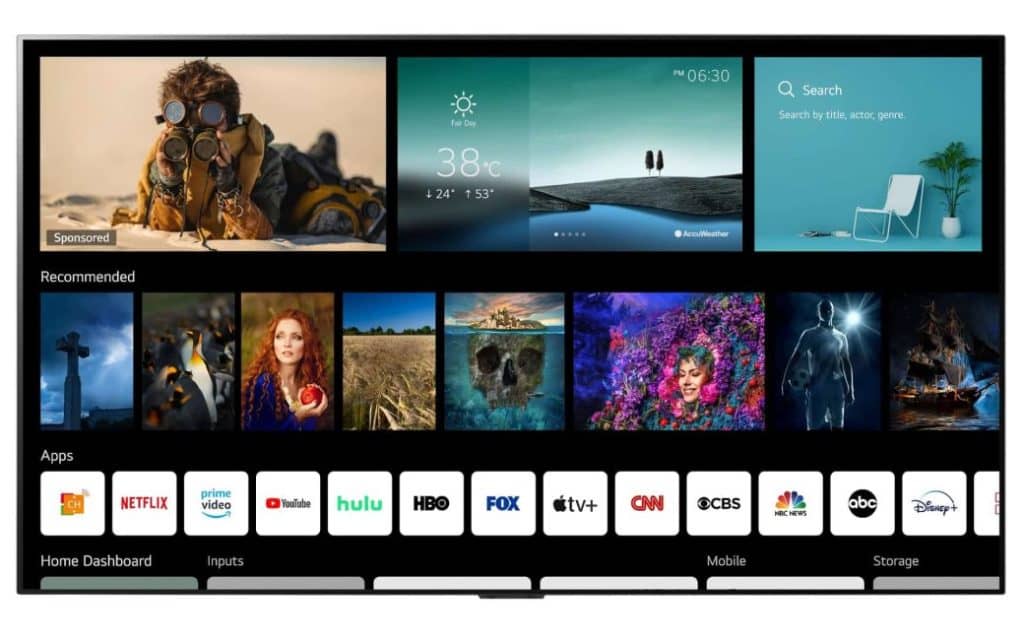 The newest version of WebOS supports user profiles, all three voice assistants – LG's, Amazon's and Google's – as well as a number of smart home functions. It's a quality OS one can depend on and an easy-to-live-with Smart TV platform in general. If there's one big problem with WebOS is the fact that LG does not usually offer an upgrade path for older TV models to the most recent version of its Smart TV platform: chances are that the version of WebOS installed in a just-purchased LG TV will be the one consumers will use for the lifetime of the product. To be fair, each WebOS version is updated several times during its first year, but the absence of an upgrade path is definitely something to keep in mind.
Samsung's Tizen started out as a smartphone operating system but has greatly evolved since, focusing on television screen operation only… and it shows. It makes smart use of big screen real estate – one row of icons leads to a second one when there's recommended content to show, for instance -  and it is quite fast, faster than this year's WebOS version. This year's Tizen version makes use of a new vertical bar in order to better organize different aspects of a TV's operation, a nice touch for people who take full advantage of its functionality. The Samsung App Store offers a variety of apps (almost all free) even if it's not as great as LG's equivalent. Most important Tizen apps are regularly updated.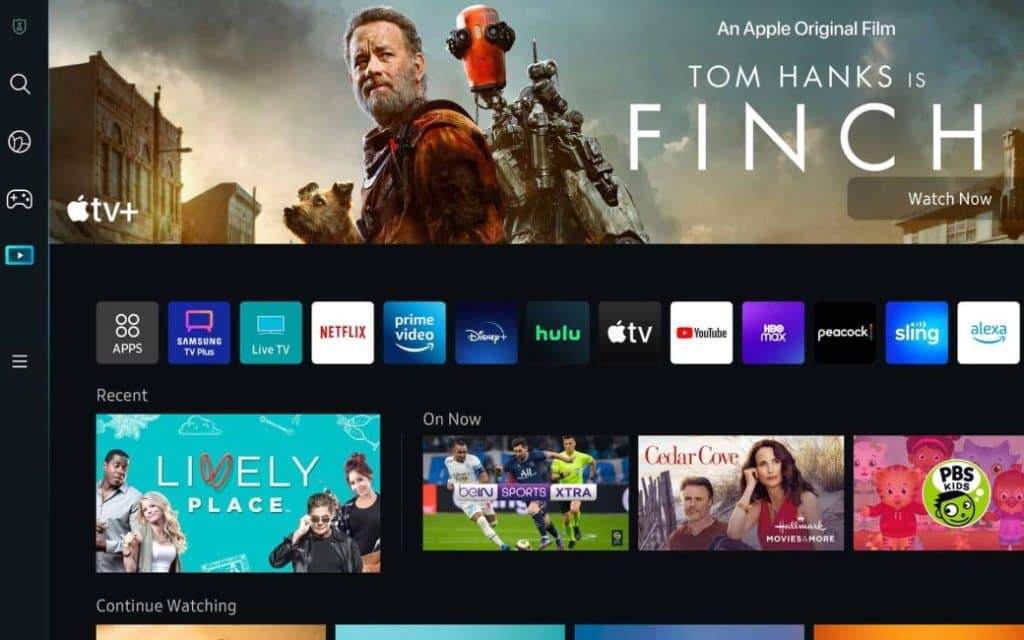 As is the case with LG Smart TVs, Samsung's latest Tizen operating system version supports all three voice assistants – its own, Google's and Amazon's –  while also offering many smart home functions and, for the first time for this product category, direct support for cloud gaming services such as Xbox Cloud Gaming or GeForce Now. The absence of an upgrade path evident in LG's TV lines is also evident in Samsung's, though, as the original Tizen version these TVs carry is updated regularly but never to the next version. Is this a Korean thing, then? Unfortunately… no, it isn't.
The king is dead, long live the king: Android TV and Google TV
Android TV is, as its name suggests, based on Google's smartphone operating system but has greatly evolved over time into a Smart TV platform capable of driving some of the best TV sets in the world. This operating system's main advantage is none other than its amazingly wide selection of apps, more than 10000 different ones, that can meet any need. Android smartphone users will be right at home with Android TV's Google Play app store. The quality of apps on offer varies wildly, though, and many are not regularly updated.
The main disadvantage of Android TV is the same one hundreds of millions of Android smartphone owners face with every new version of that OS: even though Google itself offers a new Android TV version every year, TV manufacturers do not follow along – or, when they do, they do it years later. This is far from ideal. Furthermore, Google's operating system is not exactly a speed demon to begin with – so when manufacturers install their own apps and services they slow the Smart TV platform down even more. That is why Android TV has a bad reputation as far as responsiveness is concerned. With careful tuning it can become quite fast, but this requires knowledge most consumers do not have.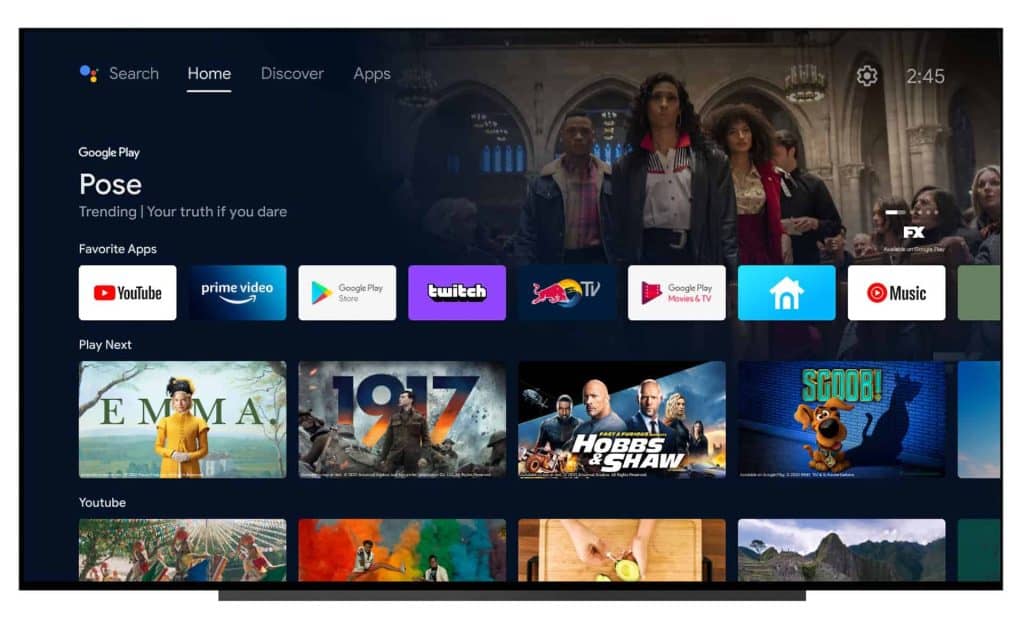 2021 brought about Android TV's successor: Google TV. This is essentially still Android TV –  same core components, same Google Play app store, same apps  –  but its user interface is revamped, its setup process modernized and its general operation streamlined. Many Sony, TCL and Hisense TVs, among others, are based on Google TV and overall impressions are positive: it is better than its predecessor, even if not by much. Google updated both operating systems in 2022, but the company's long-term plan is to leave Android TV behind at some point and focus on Google TV only, so this is something to take into account as well.
Which Smart TV platform to go for, then?
This question may seem almost pointless at first glance: most consumers' choice between different TV sets will be made based on other criteria, after all, such as image quality or design or expandability or cost. For people picking a Samsung TV the operating system will be Tizen, for people picking an LG one it will be WebOS. Either of those operating systems will serve most consumers well: they are speedy, they run all necessary apps, they offer plenty of useful extra functionality. Some people like the new Tizen's look and feel more than the new WebOS's, others prefer the wider range of apps available to the latter compared to the former. It's all down to individual preference, but the choice of TV model remains more important.
Android TV and Google TV clash in a different way: the latter being the former's successor means that it will be supported for longer. So between TVs with similar features and performance built around either OS, it makes sense to go for the Google TV-based one. Televisions based on Android TV are not guaranteed to get any updates beyond 2023 – or 2022, for that matter – and it is still up to each individual manufacturer how these updates, as well as upgrades from Android TV to Google TV, are handled. Some manufacturers are better than others when it comes to long-term software support, so people really interested in a 2022 model based on Android TV should probably look into that before deciding.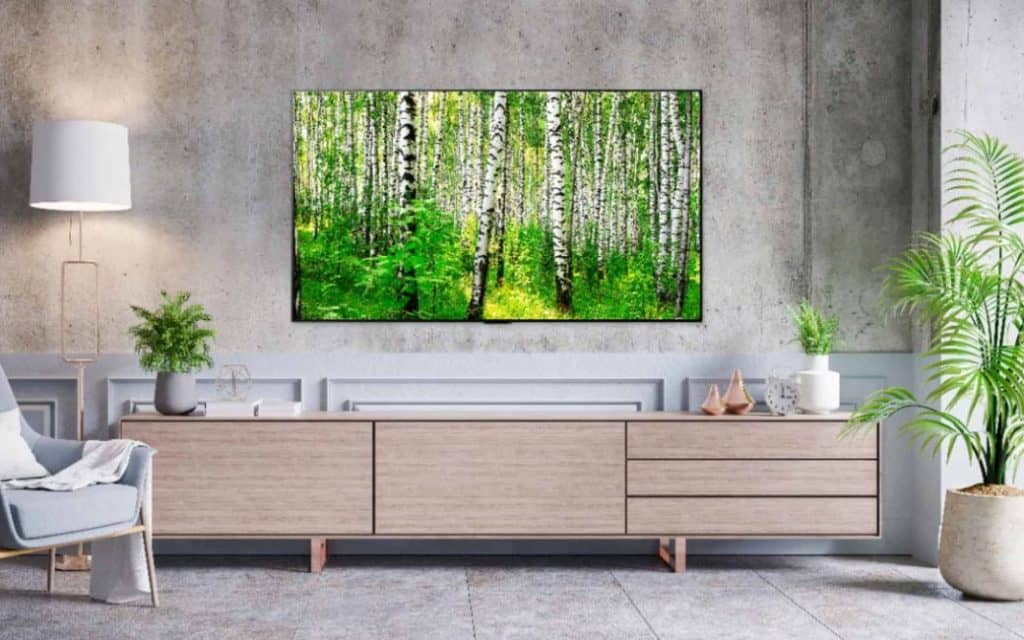 What's of actual interest to most consumers today is what apps the Smart TV of their choice offers, whether all the apps they need are supported, as well as whether those get regularly updated. All four platforms support all the popular streaming services – such as Netflix, Disney Plus, HBO Max, Apple TV Plus, Hulu, YouTube, Spotify and ESPN Plus  – so there will probably be no issue there, while all four also support Plex and various media player apps for local or local network file playback. So, content-wise, all four main Smart TV platforms have consumers more or less covered. Android TV/Google TV and, to a lesser degree, WebOS do support an additional number of streaming services catering to smaller niches, but that's about it.
At the end of the day, the vast majority of consumers will probably be OK with the operating system the new TV of their choice is based on… and that's the reason why very few people would pick a new television in 2022 based on its Smart TV platform: other criteria are simply more important. Some Smart TVs are easier to live with than others, granted, but all four software platforms have reached a level of maturity that ensures they'll work with no major issues. Ultra-demanding consumers can always connect a top media player, such as an Apple TV or an nVidia Shield, to an HDMI port in order to enjoy even more apps, content sources and extra functionality – for a price, of course, but hey. At least the option's there!


---
This article is included in our ten-part 2022 TV Buying Guide. Here is a list of them in full:
Choose the Perfect TV 2022: Which display tech to go for?
There may be only three available options but it's still complicated. Here's some help.
Choose the Perfect TV 2022: Pick a spot and a time of day, you say?
Taking viewing habits and lighting conditions into account can help avoid an expensive mistake. Here's how.
Choose the Perfect TV 2022: How big, how far?
Viewing distance and ideal screen size go hand in hand, here's how they should be matched for maximum effect
Choose the Perfect TV 2022: Stay at 4K or go 8K?
The extra millions of pixels may or may not be worth the extra money, here's how to decide
Choose the Perfect TV 2022: Here's what to look for, sports fans
Not all TVs can display sports content in the same clear, smooth manner – here's what makes all the difference
Choose the Perfect TV 2022: Here's what to look for, movie fans
What the experts call "a cinematic picture" is defined in specific ways, here's the full rundown
Choose the Perfect TV 2022: Here's what to look for, gamers
All TVs can display video games just fine, but gaming TVs do modern titles justice by offering these specific features
Choose the Perfect TV 2022: Which Smart TV platform to choose?
Four main options and a number of differences between them, here's what's worth keeping in mind
Choose the Perfect TV 2022: All the extras that matter
Modern televisions feature various supplementary functions these days, here are the most helpful ones
Choose the Perfect TV 2022: So, you just got it! Now what?
A few things to do right away, a couple of things to consider doing at some point down the line