Logitech MX Keys S, MX Anywhere 3S: modestly improved, still the best
Not a lot of room for spectacular hardware upgrades, but smart software could make up for that

Want to talk about the kind of problem that's actually good to have? Take a look at Logitech: the company has now come so close to delivering the perfect keyboard and mouse for office workers and creative professionals, that improving on its current models in order to sell new ones has literally become a problem. MX Keys is arguably the most comfortable wireless keyboard for doing focused work that can stretch to many hours at a time, while the superiority of the MX Master 3S over any other productivity mouse is undeniable. On the mobile front, more people than ever depend on laptops for working in corporate, home, or hybrid environments, so a high-quality mouse in an easy-to-carry-around form, like the MX Anywhere 3, can greatly help with that.
But how can Logitech offer more with new products of this kind, if the ones already out are practically flawless on a hardware level?
The answer: mostly through software and added functionality.
Yours truly had the chance to work for ten days with Logitech's MX Keys S wireless keyboard and MX Anywhere 3S wireless mouse. They are modest upgrades compared to the current MX Keys and MX Anywhere 3 respectively in terms of hardware, but Logitech has made sure that their accompanying software plays a much greater role this time around. What does that mean in practice?
Careful, quality-of-life hardware improvements
The Logitech MX Keys S is pretty much identical to its predecessor in terms of design and build quality, which is no bad thing since they were both already top-notch. The company notes that its new wireless keyboard makes use of recycled plastic (at around 10%-25% depending on the color) and sustainable materials (like low carbon aluminum), but that's something most consumers will obviously not notice (and sadly not care all that much about either).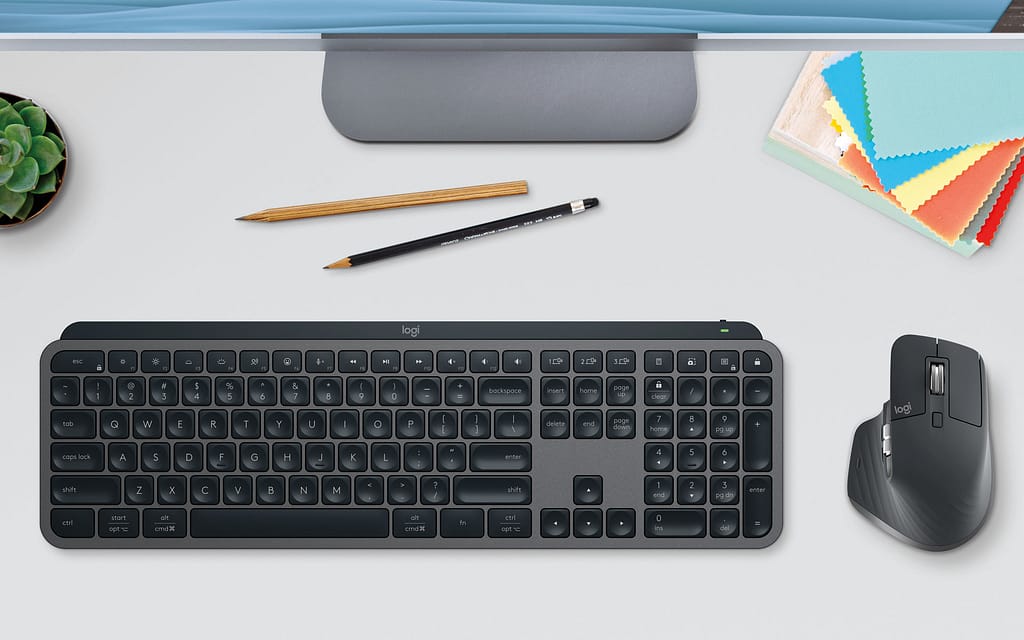 What they will notice is that the backlighting of the keys is much smarter this time around: a sensor can tell when a user's hands approach the keyboard and, if the light in the working space in question is dim, it will turn on backlighting on its own (and turn it off when not needed in order to conserve energy). The configurable settings offered by the Logi Options Plus software suite are more extensive too, allowing for customization of the backlight's intensity and duration.
Since the overall look and feel of the MX Keys S is intentionally close to that of the MX Keys model, there's nothing negative to report really: the "S" in the tech world has come to mean "modest upgrade" — so as to tame consumers' expectations somewhat, maybe? — and that's what we have here. Yours truly had to charge the MX Keys S just once in ten days of heavy, continuous use. The slightly concave keycaps guide consumers' fingertips to the center of the keys as pleasantly as before, key distance is practically ideal, key travel remains quite satisfying (a bit more of it wouldn't hurt). This is a truly premium product that was given enough new polish so as to deserve the "S" tag": there was very little room for complaint before and even less now (maybe Logitech could consider adjustable incline positions for the next MX Keys model but… that's about it). The MX Keys S is now available in graphite and pale grey for $109.99/€124.99.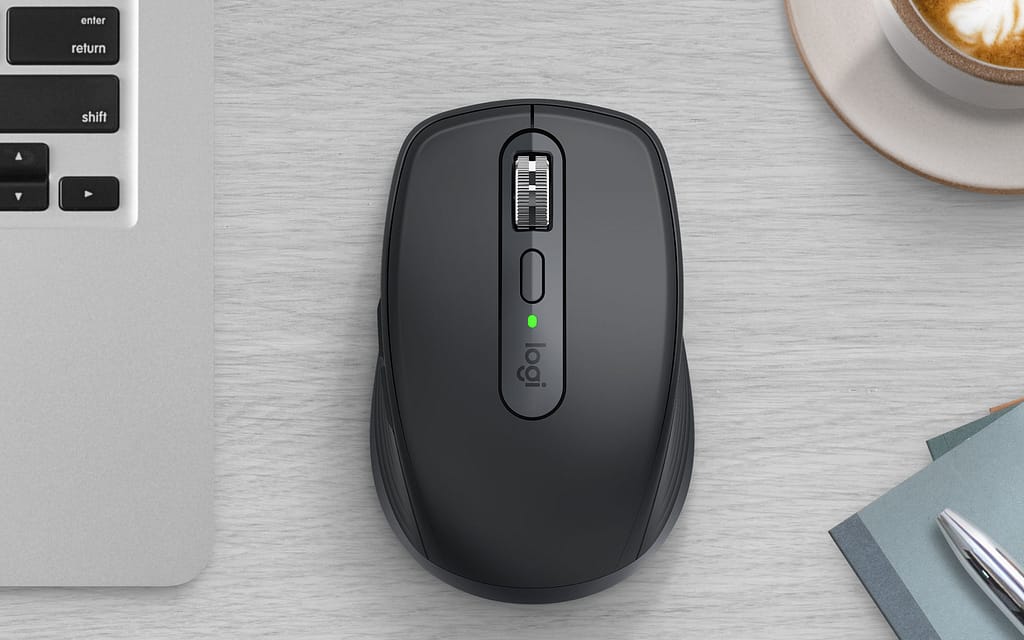 As far the MX Anywhere 3S is concerned, it's pretty much the same story. Logitech would be mad to change too many things to the wildly successful MX Anywhere 3 — as that nailed practically every aspect of the perfect mouse for travel and for laptop use in general — so, well, they didn't. The design, size and grip are the same, battery life is absolutely amazing, the MagSpeed wheel is as useful as ever, while full Bluetooth and USB Logi Bolt compatibility means that it will work with the widest range of devices possible. Improvements worth mentioning: the optical sensor's resolution is up to 8K DPI from 4K DPI (so even less hand movement is required for getting the pointer from one end of a computer desktop to the other) and button clicking is notably quieter than before. The MX Anywhere 3S is now available in graphite, pale grey and pink for $79.99/€104.99.
Handy and upgradable software with a lot of future potential
The one feature that stands out among Logitech's announcements regarding these new models, though, has more to do with software than with hardware. Starting today, consumers using the company's products can download the latest version of its Logi Options Plus suite, which brings an interesting new function to the table called Smart Actions. These are basically macros — text inputs and keyboard or mouse commands executed in sequence so as to automate repetitive tasks — that Logitech's software can tie to shortcuts or even single keystrokes.
By making use of these, consumers can save valuable time and boost their productivity. The company is offering 12 of those Smart Actions to begin with and consumers can use them unaltered or as templates to modify to their liking (they can obviously create new ones from scratch if they need to tackle more complicated tasks).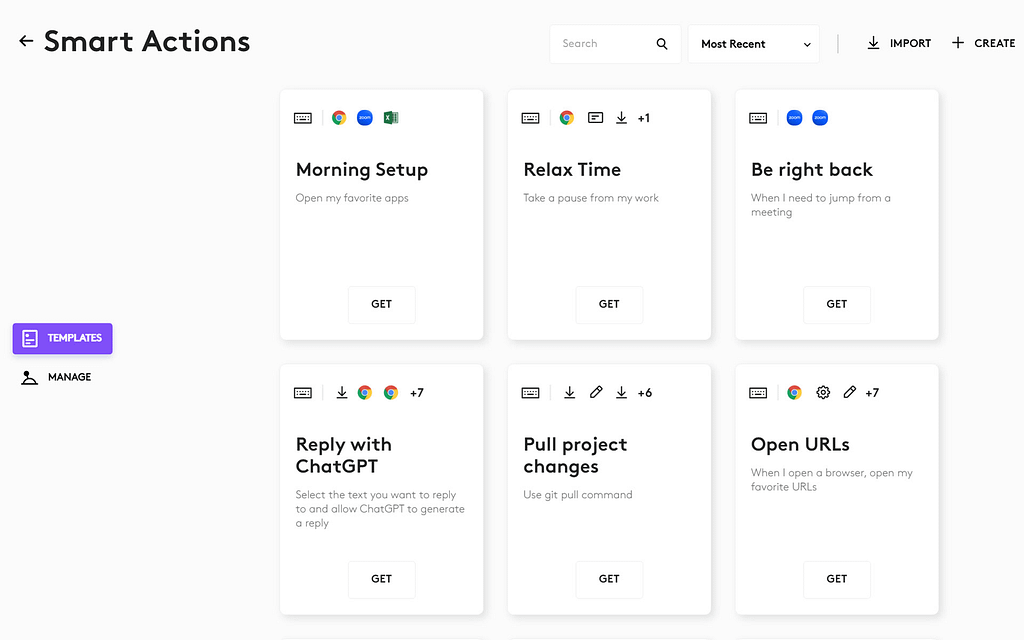 Examples of such Smart Actions include e.g. "Morning Setup" (which automatically opens one's favorite programs for doing hybrid office work), "Playback Speed Change" (which opens the last video file one was working on in Premiere and applies changes of this type) or even "Reply with ChatGPT" (prepare for a lot of suspiciously similar e-mail answers from a lot of people if this catches on). Advanced users have been using various utilities that execute scripts or run macros in Windows or macOS for years now, but Logitech's software makes it easy for mainstream consumers to achieve pretty much the same thing in a more intuitive, almost visual kind of way. Users can even import their favorite Smart Actions from one computer to another via the cloud (a Logi ID is inevitably required for that).
The next logical step would be for Logitech to let users export their own Smart Actions in a form that other users can download, modify and use — so a kind of "marketplace" for those could be eventually created. The sky is the limit here.
Along with the MX Keys S and MX Anywhere S, Logitech has also announced the availability of the Keys S Combo, which is basically the MX Keys S keyboard put together with the company's dominant MX Master 3S wireless desktop mouse in a single package. This goes for $199/€219 — so there are some decent savings right there compared to the cost of purchasing each device individually — while also including the matching palm rest for the keyboard (and a single Logi Bolt receiver for simultaneous use with both devices at the same time). The Keys S combo comes in graphite and that new, very smart looking pale grey that's sure to attract glances around the office (and color-match recent Apple devices way better than the other two options). Logitech is also including a single USB-C cable for charging both accessories.



It's clear that, with its productivity-focused keyboard and mouse models pretty much perfected, Logitech can only make welcome, meaningful but largely incremental improvements from one version to the next hardware-wise. Software, though, is another matter entirely. Now that can be considerably upgraded over time — adding potentially invaluable new functionality to these products, delivered seamlessly via simple updates over the network — so Smart Actions is a notable feature that makes sense for a top accessories manufacturer like Logitech to offer.

It will be interesting to see how the company plans to support this feature long-term, as well as what productivity workers and the creative community will think of it in the context of actual everyday workflows. In the meantime, hats-off to Logitech for managing to make their best-in-class wireless keyboards and mice even better. Not always as easy as it seems, that!