Microsoft may not be giving up on new Xbox hardware after all
According to legal documents there's a more powerful Xbox model scheduled for 2028, but Microsoft's plans still not set in stone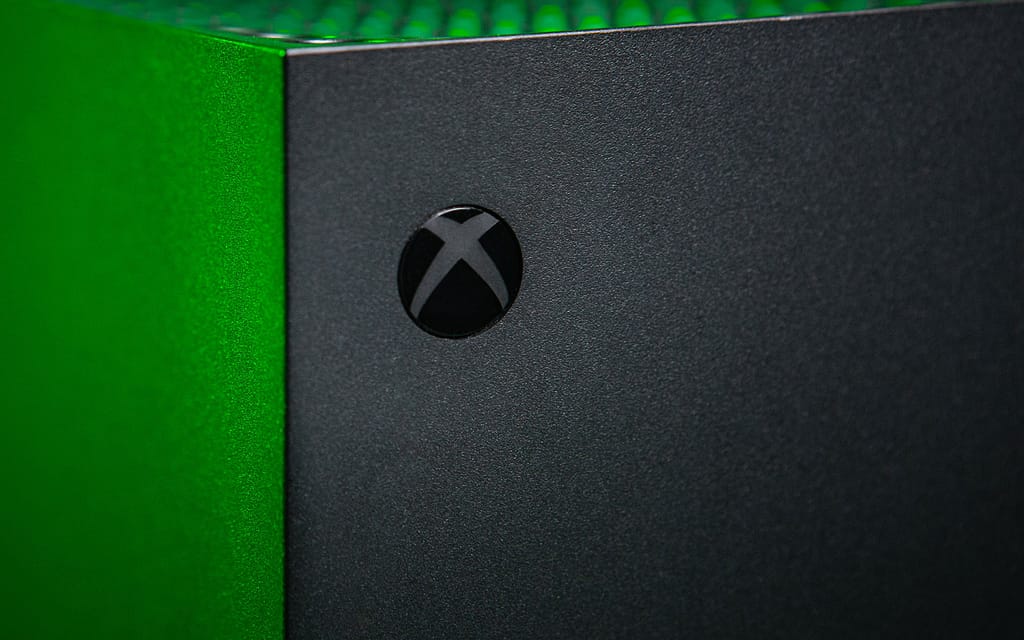 It's fair to say that things have not been going well for Microsoft when it comes to the video games market, for almost a decade now: after being handily beaten by Sony during the PS4/Xbox One era – it ended up selling less that 58 million units whereas the Japanese are now closer to 118 million – the company entered the PS5/Xbox Series S|X era with renewed energy, hoping to cover most of that lost ground. But mismanagement, software drought, COVID and its implications as well as a couple of other factors did not allow the Xbox Series to find success, leaving Microsoft with no choice but to focus on Game Pass: the only area where it had already built a significant advantage. What most expected of the company was to stay the course and lean on its cloud services-oriented strategy over the next few years, not investing on another powerful and expensive home game console but working towards getting its Xbox games on as many types of devices as possible.
That may still come to pass, but it seems that Microsoft is – or, at the very least, was at some point – considering releasing a next-generation "hybrid" Xbox in 2028. That's according to a huge information leak of legal documents that were part of the FTC vs Microsoft case that took place recently.

That "hybrid" Xbox would be designed in such a way as to allow the processing power of this device itself as well as the processing power of Microsoft's cloud infrastructure in order "to deliver deeper immersion and entirely new classes of game experiences". That "hybrid" platform would be built around either an ARM64 or AMD Zen6 CPU, a Navi 5 GPU and a specialized NPU (neural processing unit for machine learning-related functionality). The idea was to provide a platform with a number of graphics "next-gen" features that's also extensible well into the future via software and the Internet.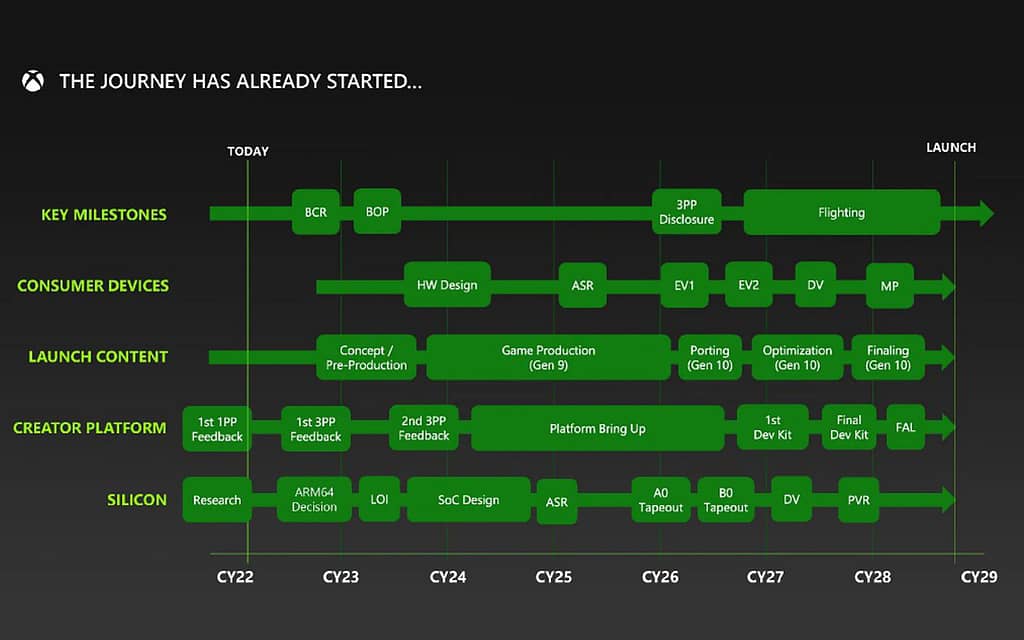 The legal documents mentioned earlier refer to internal presentations dating back to May 2022, so these plans may or may not still be in motion. If they are, Microsoft is supposed to decide about going with either an ARM or an x64 CPU by this year's end, begin this platform's hardware design next year and have the first development kits ready in early 2027 at the latest, targeting a Q4 2028 launch. A "hybrid" software and services creator platform – taking advantage of a local system's processing power as well as that of the Azure cloud infrastructure – would have to be put together by the second half of 2026, in order for the first games based on it to be ready by Q3 2028 (XSX/XSS games would also be ported across this platform and be optimized accordingly).
New Xbox Series models definitely coming in 2024
Whether that "hybrid" Xbox system is still in the cards for 2028 is anyone's guess at this point, but other information included in those leaked legal documents is of more immediate interest: Microsoft is planning to release refreshed versions of the current Xbox Series X and Xbox Series S in 2024. An Xbox Series X model codenamed "Brooklin" sports no optical drive, a rounded design instead of a boxy one and 2TB of storage instead of 1TB. It will offer a USB-C front port, Wi-Fi 6E and Bluetooth 5.2 wireless connectivity, as well as a new accompanying controller that Microsoft is developing (it features gyroscopic control and it will be released mid-2024).

This refreshed Xbox Series X is not expected to offer more in terms of performance – it's the same CPU/GPU combination, manufactured at 6nm for increased efficiency – and it will be offered during Q4 2024 at the same price the Xbox Series X is sold today ($499).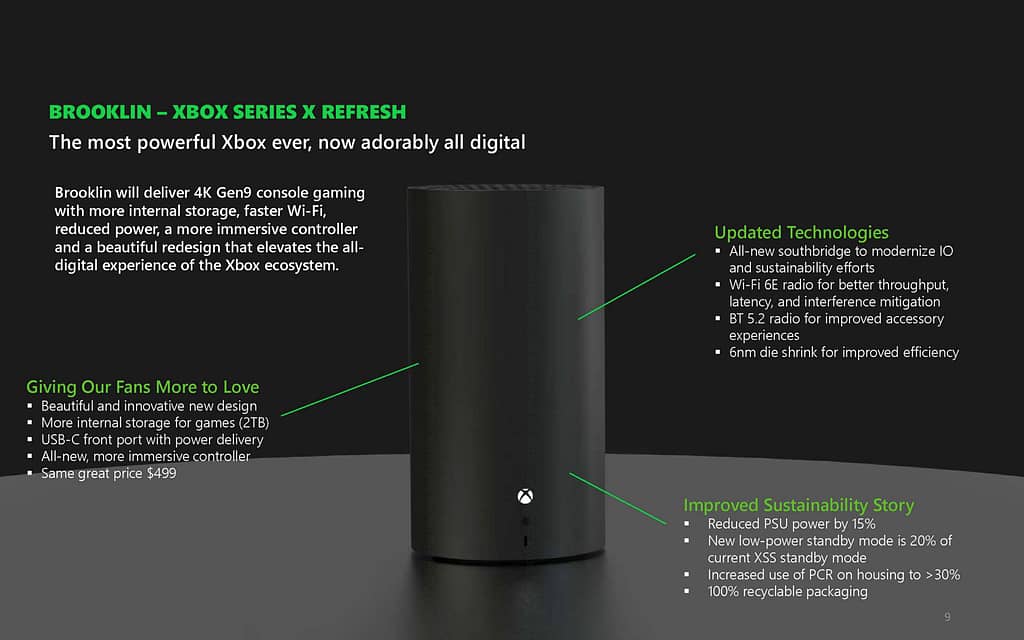 Microsoft is also planning to release a refreshed Xbox Series S currently codenamed Ellewood, following the same line of thinking: improved 6nm manufacturing process resulting in higher efficiency, Wi-Fi 6E and BT 5.2 wireless connectivity, the new accompanying controller and 1TB of storage (no changes there compared to the XSS model released recently) for the same $299 price. This machine is expected to land around August 2024, after the new controller – codenamed "Sebile" – launches in May 2024. The company will be sure to emphasize both models' lower power consumption as part of the sustainability efforts that many tech companies are promoting as of late.
All of the above is hardly uncommon, as game console manufacturers are in the habit of offering hardware refreshes of their systems 3-4 years after the latter hit the market. What's interesting is that Microsoft does not seemingly plan to release a more powerful version of the Xbox Series X during this console generation, accepting that Sony will have the most capable system this time around (if all these rumors regarding a 2024 PlayStation5 Pro prove to be accurate).

Yours truly has argued in the past that offering an even more powerful Xbox based on the same architecture would not really benefit Microsoft anyway and the Americans seem to feel the same, opting to invest more resources in the next step of Xbox instead. It will be interesting to see if or how these leaked Microsoft plans change or adapt over the next two years or so but – for the time being – they do make sense, don't they?