Spider-Man 2 out for the PS5 on October 20th
Different editions detailed, new information released, preorder date confirmed for Sony's biggest 2023 title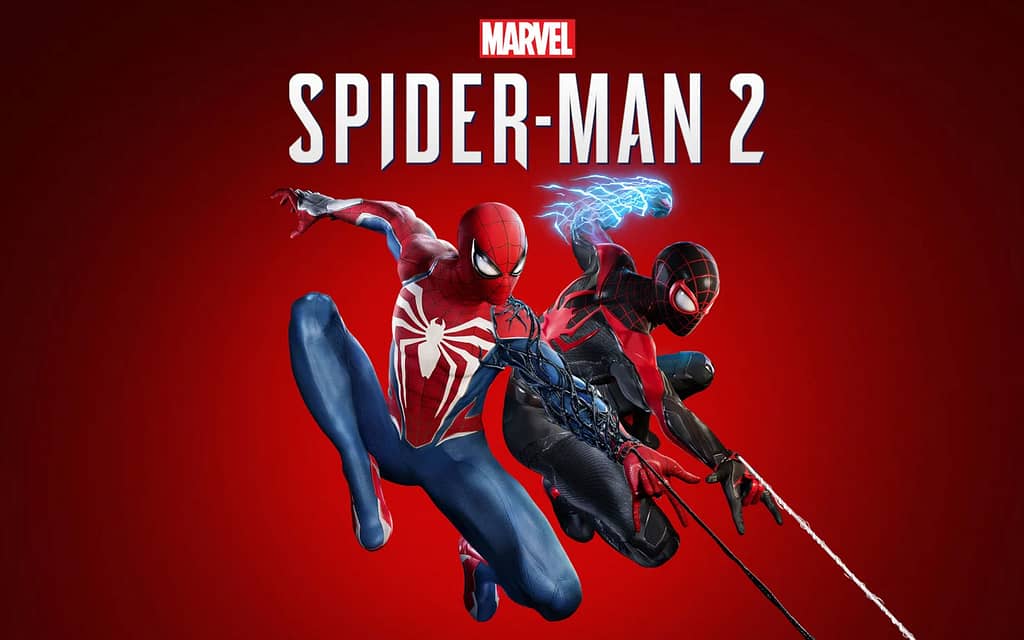 So now the countdown begins: Sony has officially announced the release date of its most important video game of the year at Summer Game Fest 2023, expanding on it via a detailed blog post later on. Spider-Man 2 will be out on October 20th exclusively for the PlayStation5, just shy of 5 after the original Spider-Man was released on the PS4. Quite a few things have changed in the video games market since then, obviously, but what hasn't changed is the popularity of Spiderman. In fact, one could argue that there's never been a wider audience to release a Spiderman game for, after the resounding critical and commercial success of the first title and its Miles Morales-starring spin-off, their respective remakes for the PS5 and PCs, as well as the triumph of Spider-Man: Across the SpiderVerse in the box office.
According to James Stevenson, community director at Insomniac Games:
In Marvel's Spider-Man 2, players will get to experience Marvel's New York as both Peter Parker and Miles Morales. As you saw in the PlayStation Showcase last month, the main storyline of the game will have you take control of both Spider-Men at different points of the campaign. In the open world you will be able to switch nearly instantly between them as you explore Manhattan, Queens and Brooklyn. Both Spider-Men have stories and missions in the world exclusive to each of them.
Preorders for Spider-man 2 will open on June 16th at all participating retailers, PlayStation Store and Sony's PlayStation Direct e-shop. Consumers who preorder any version of Marvel's Spider-Man 2 will receive an early unlock Arachknight Suit for Peter Parker with 3 additional color variants, an early unlock Shadow Spider Suit for Miles Morales with 3 additional color variants, an early unlock Web Grabber gadget and 3 skill points. The standard version of the game costs $69.99/€79.99 and will be available at the PS Store as well as in disc form at retail.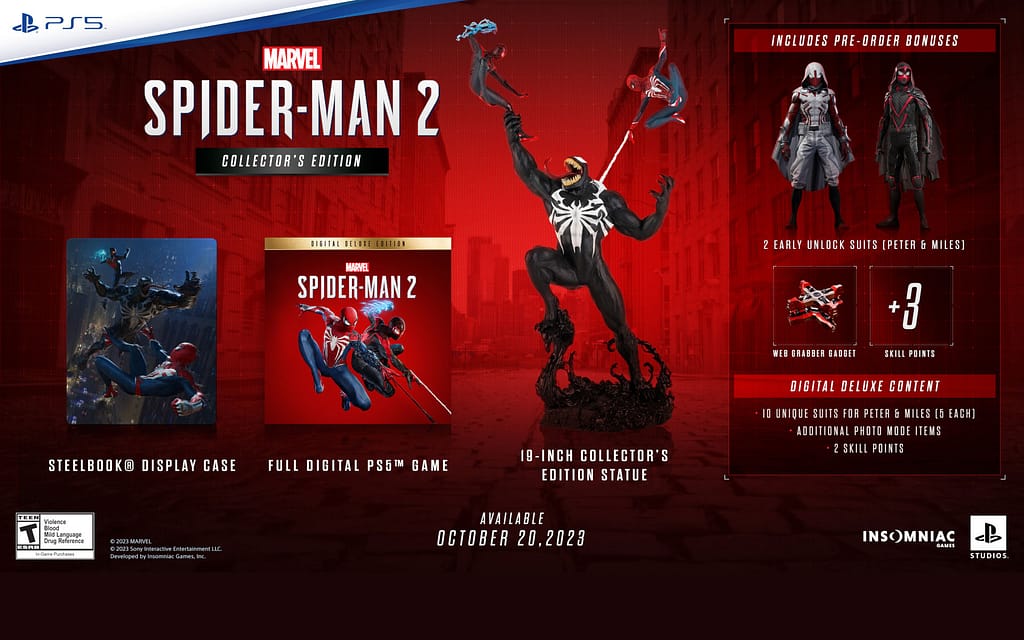 The Digital Deluxe edition of Spider-Man 2 ($79.99/€89.99) will offer the game, all the aforementioned preorder incentives, as well as 10 unique suits – 5 for Peter Parker, 5 for Miles Morales – additional Photo Mode frames and stickers, as well as 2 additional skill points. These unique suits were designed by guest artists across comics, films, and PlayStation Studios such as Kris Anka, Julia Blattman, Sweeney Boo, Anthony Francisco, Raf Grassetti, Jerad Maantz, Joel Mandish, Darren Quach and Victoria Ying.
Sony has also put together a Spider-Man 2 Collector's Edition for hardcore Spiderman fans ($229.99/€249.99), which will be available while supplies last. This includes a voucher for the Digital Deluxe Edition, a Steelbook case and a rather impressive 19-inch statue featuring both Spidermen battling Venom. Consumers can order the Collector's Edition on PlayStation Direct in every country it operates in – US, UK, Germany, France, Netherlands, Belgium, Luxembourg, Italy, Austria, Spain and Portugal – while select participating retailers are expected to carry this edition in small quantities in most other markets.



It's fair to say that a lot rides on the quality, critical acclaim and commercial success of Spider-Man 2 for Sony. This is the company's first major title that will not be coming to the PlayStation4 – at least that's currently the official word on the matter, as Insomniac insists that it was built "from the ground up for the PS5 and it will unlock the power of this console with better visuals, faster web swinging, 3D Audio and near-instant character switching" – so it needs to deliver on all fronts. It will have to be of such high quality that a large percentage of the 40 million PS5 owners out there view it as a must-buy, as well as good enough to work as a system seller for the PS5.

If it is, Spider-Man 2 could be the game that will convince millions of reluctant PS4 owners to finally make the transition to the PS5. Only a few short months before we find out, then!