iPhone 15: last year's iPhone Pro goes mainstream
Apple follows its somewhat questionable 2022 strategy once more, still delivers two seriously upgraded devices in 2023 terms

Surprising absolutely nobody – not after almost a year of steady information leaks, both unofficial and… kind of official? – Apple announced the iPhone 15 and the iPhone 15 Plus, its latest smartphones targeted at mainstream consumers worldwide. The company seems determined to follow a pattern established with the iPhone 14 and the iPhone 14 Plus in 2022: re-use much of the technology employed in last year's Pro models so as to push the capabilities of these comparatively affordable iPhones further, while still differentiating between them and this year's Pro models (which get to use new tech and more powerful components). It's a strategy that makes a lot of sense – but, to its credit, Apple also included a couple of handy new features that iPhone 15/15 Plus owners will appreciate in the long run.
So, what's staying the same? The general design (which is not a bad thing at all), the screen sizes and resolutions (also more than good enough for their intended market), the front-facing camera (identical specifications and functionality), the estimated battery life (up to 20 hours of video playback), the available storage capacities (128/256/512GB) and the price (starting from $799 and $899 for the regular iPhone 15 and the iPhone 15 Plus respectively).

What's improved? Peak screen brightness can go up to 1600 nits in HDR content and even up to 2000 nits outdoors (up from 1200 nits), the front facing camera produces better results through software (Smart HDR 5 and a revamped Portrait Mode) and the UltraWideband chip's range for near-field communication is greater. The iPhone 15/15 Plus models are also a tad lighter than their predecessors, which is always welcome.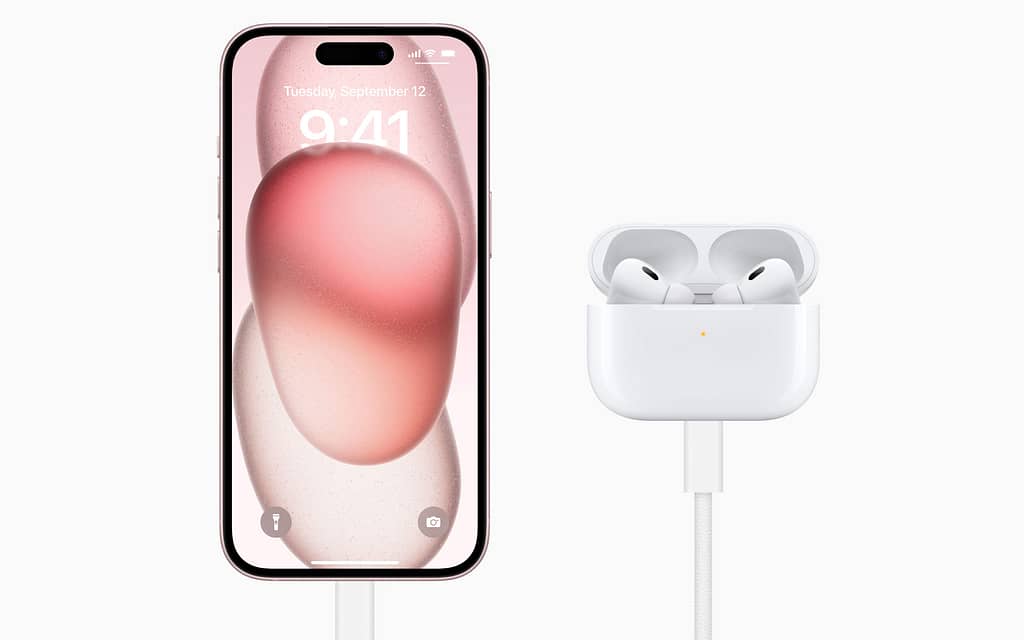 The additions to the iPhone 15/15 Plus, though, are much more important than the improvements mentioned above. The A16 Bionic, for instance, is a decidedly more capable chip than the A15 of the iPhone 14/14 Plus and it will be serving mainstream consumers well for years to come. As expected, both models now offer USB-C wired connectivity instead of Lightning, which is something a lot of people have been asking of Apple for a very long time. Data transfer via this USB-C port is unfortunately limited to USB 2.0 speeds (!), which we are to understand is due to the A16 (the iPhone 15 Pro/Pro Max offer USB 3.0 data transfer speeds due to a special controller block inside the the A17 Pro chip).

Even if that is indeed the case, it still feels painfully anachronistic in 2023 terms – especially since most mid-range or even some budget Android phones have been offering much higher wired transfer speeds for some time now.
On a brighter note, the iPhone 15/15 Plus are also leaving behind the long-serving but rather limiting 12-Megapixel sensor for their main camera, gaining a 48-Megapixel one (not the exact same of last year's iPhone 14 Pro models but a new one). Along with the increase in optical zoom range from 2x to 4x and Apple's improved camera software, this is a serious upgrade for all kinds of photography and videography use cases.

The iPhone 15/15 Plus are also offering last year's most interesting iPhone Pro display feature, the Dynamic Island: although it still feels that the potential of its functionality remains untapped, it's a notable addition that may finally convince developers to give this new way of interacting with the iOS a chance.



All in all, despite the lack of any real surprises regarding the iPhone 15/15 Plus, Apple appears to have delivered two highly capable, future-proof devices that offer a number of much more important, desirable upgrades compared to their predecessors. One can't but admit that Apple delivered on the value front, too, as the iPhone 15/15 Plus cost exactly the same as the iPhone 14/14 Plus while being much better devices overall.

It will be interesting to see what consumers will think of these new mainstream iPhones come Q4, especially when it comes to the Plus model (the iPhone 14 Plus was widely considered to be a failure of embarrassing proportions). Both smartphones will be available for preorder on September 15th and delivery to customers on September 22nd.