Apple and Samsung still dominate smartphone sales
All ten most popular handsets globally split between these two manufacturers, everyone else seemingly fighting for scraps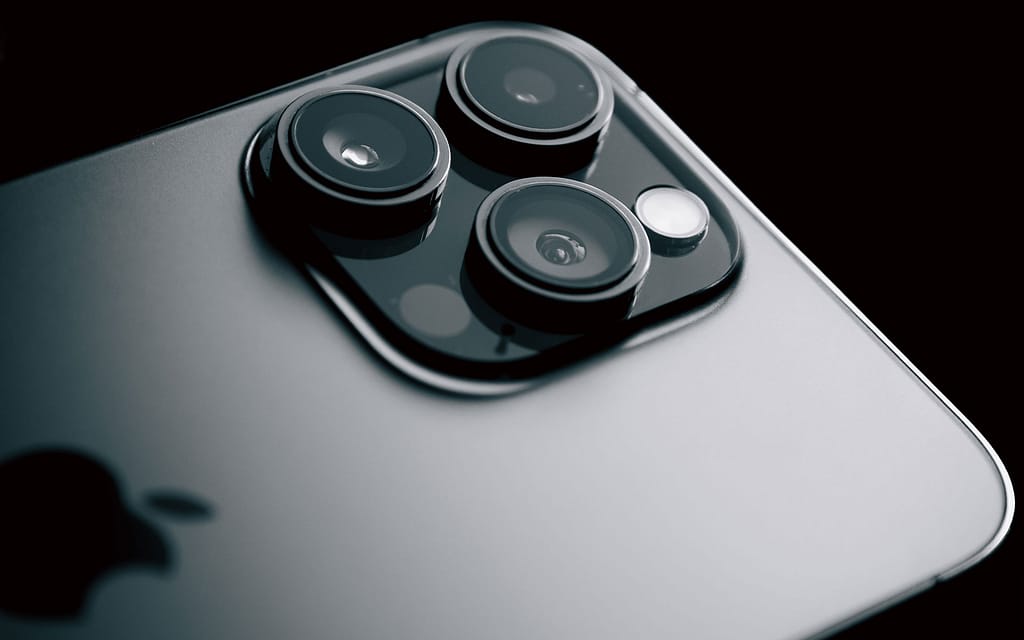 One would have thought that, with over 30 or 40 different manufacturers building and offering smartphones around the world nowadays, most sales would be spread across the portfolios of at least a few of those, if not more. But… no: according to a detailed report recently published by Counterpoint Research, the lion's share of smartphone sales globally is split between just two of those manufacturers: Apple and Samsung. What's more, it seems that revenue and profit balance of the total sales made by those two has changed significantly, in a way that's rather alarming for the Korean manufacturer short-term as well as long-term.
According to Counterpoint Research's report, every single model present in the Top Ten of global smartphone sales during Q2 2023 was either an Apple iPhone or a Samsung Galaxy handset. As the following chart indicates, all four top slots belong to iPhone models while the remaining six belong to Samsung Galaxy ones, but the iPhone's sales got the same top four spots during Q1 2023 too. What this chart also indicates, obviously, is that every single smartphone coming from any other manufacturer does not make this sales Top Ten, which means that all other manufacturers are essentially fighting for scraps: less than 10% or even 5% percentage of sales on average – probably a bit more depending on region and country, but definitely not on a global scale. This is not what ultimately works best for consumers, yet here we are.



There are a few other things one can clearly tell by looking at this chart, as well as a couple of trends clearly established in the smartphone marketplace. One: Apple's brand loyalty is second to none, based on sales now spanning several quarters (and even years of data). People using iPhones generally only upgrade to newer (often better and more expensive) iPhones. There is no such loyalty in the Android world. Two: People intend on keeping their smartphones for two, three or more years, so they deem purchasing a high-priced device a worthy investment: none of the four iPhone models sitting at the top of the Top Ten sales list is what anyone would consider cheap or even affordable to many Three: Apple's largest and most expensive model, the iPhone 14 Pro Max, is in second place, meaning that a lot of consumers already determined to get an iPhone opt for the regardless of pricing.
All this is obviously good news for Apple, as the company's executives have been clearly trying to dominate the upper-end and high-end of the smartphone market (where higher margins reside) for years. The same chart spells bad news for Samsung, though, both short-term and long-term, for the exact same reason: not only are almost all of the company's handsets present in that Top Ten cheaper (so offering far lower margins), but there's just one high-end model of the last two years making the cut. For the same reasons mentioned above – people treating smartphones as an investment – it's the Galaxy S23 Ultra, Samsung's best and most expensive model, but this means that mainstream consumers were not impressed by this year's "regular" or Plus Galaxy S models. It's evident that the other five, more affordable models sell very well, but this is probably not what Samsung would like to see.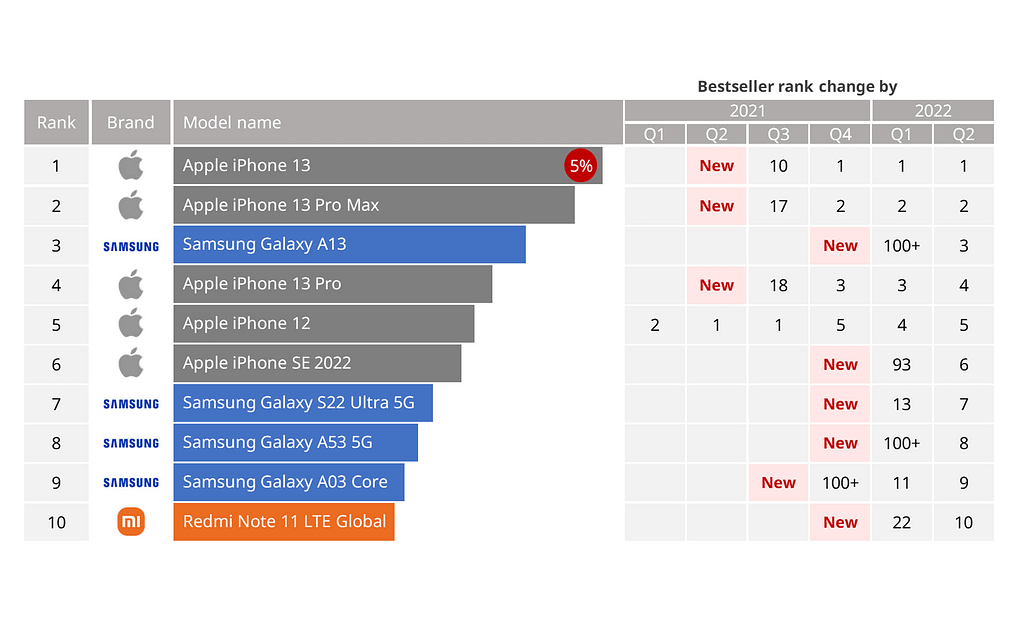 Taking a look at the same chart for the same quarter of 2022 drives these points home. There's another manufacturer included in the Top Ten (RedMi), a Samsung affordable model is coming in third (the A13), while there's even an affordable iPhone model coming in sixth (the SE 2022). Apple seems to all but have left SE behind (if the company does not introduce a new one in 2024 it's official), along with any small models (iPhone Mini) and is now all about promoting its Pro models (fully knowing that many consumers will go for the regular ones). There's still just one Samsung hi-end model included in the second chart, but it's in seventh place instead of eighth. The Koreans may be selling Galaxy devices in higher numbers, but whether that is enough to offset the low margins these models sell at is currently debatable.
Above all else, though, what both charts indicate is that the smartphone market is in desperate need of stronger competition between as many different manufacturers as possible. As things stand consumer choice seems severely limited, affecting how Apple and Samsung treat their customers too. Here's hope that, come 2024, there'll be a few more brands entering that Top Ten of smartphone sales. We've already seen numerous times how a duopoly can affect the progress or growth of certain tech product categories, no?