The Last of Us already one of the most popular game TV adaptations ever
Sony and HBO hit it out of the park with a PlayStation-based TV show that hasn't even aired all episodes of its first season yet

Let's be honest here: ever since we found out about the TV adaptation of The Last of Us — one of the most important games in the history of PlayStation — most of us were expecting it to be good. Maybe very good. It would have to be since it was handled by HBO and the person responsible for the original Naughty Dog production, yes? Few people, though, expected it to be this good, transcending the "games to TV" category and becoming one of the most interesting, captivating shows in recent memory. Sony has big plans for its PlayStation properties making the leap to the entertainment market in the form of movies or TV shows — and this one, after the rather uninspiring Uncharted film, sets the bar pretty high for the eight remaining such productions (that we know of).
Sticking to the "games to TV shows or films" category for a moment and taking a closer look at what came before, though, makes the success of The Last of Us even more impressive. For a property that was appreciated by the PlayStation crowd but not all that well-known by the mainstream audience, The Last of Us seems to have already gained the kind of popularity only reserved for gaming legends. This is quite obvious just by looking at this infographic that JustWatch — the Web service that makes tracking down films and TV shows of all kinds a breeze — provided to the media recently.



Based on what people are searching for in JustWatch (plus what they put in their favorites and bookmarks) makes The Last of Us the third most popular TV show across all streaming services. Yes, already — despite it not having aired every episode of its first season yet. Netflix's excellent Arcane is the most popular by far but, by the time The Last of Us reaches season two, it will most probably have surpassed Halo (which was nowhere near as good as The Last of Us is). This is quite a feat, considering that this Top 10 comprises of such strong gaming brands as DOTA, Castlevania, Cyberpunk and Resident Evil.
Based on the same system of data analysis, JustWatch also provided the following infographic regarding the 10 most popular movie adaptation on its service. Sony should take some solace in the fact that Uncharted may not have exactly rocked the world of action cinema, but it seems to have generated more interest than other established, much stronger gaming brands such as Sonic, Pokemon and Tomb Raider.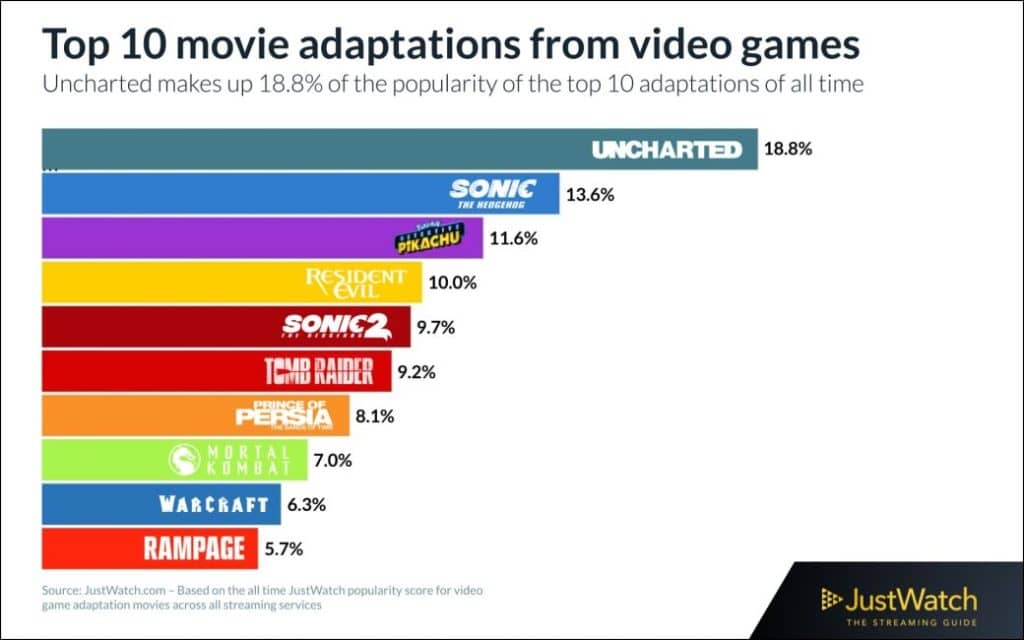 The Last of Us is four episodes away from the finale of Season 1 — at the time of writing — and has already been confirmed to get a second season at some point (probably in 2024). Sony's next PlayStation hits to be adapted for TV include Twisted Metal (Peacock), God of War (Amazon Prime Video) and Horizon (Netflix). Will they be as accomplished as The Last of Us turned out to be? We can only hope!