WordPress is finally getting easier for everyone
Anybody will be able to put together websites faster than ever thanks to creative AI or smart setup wizards soon, here's how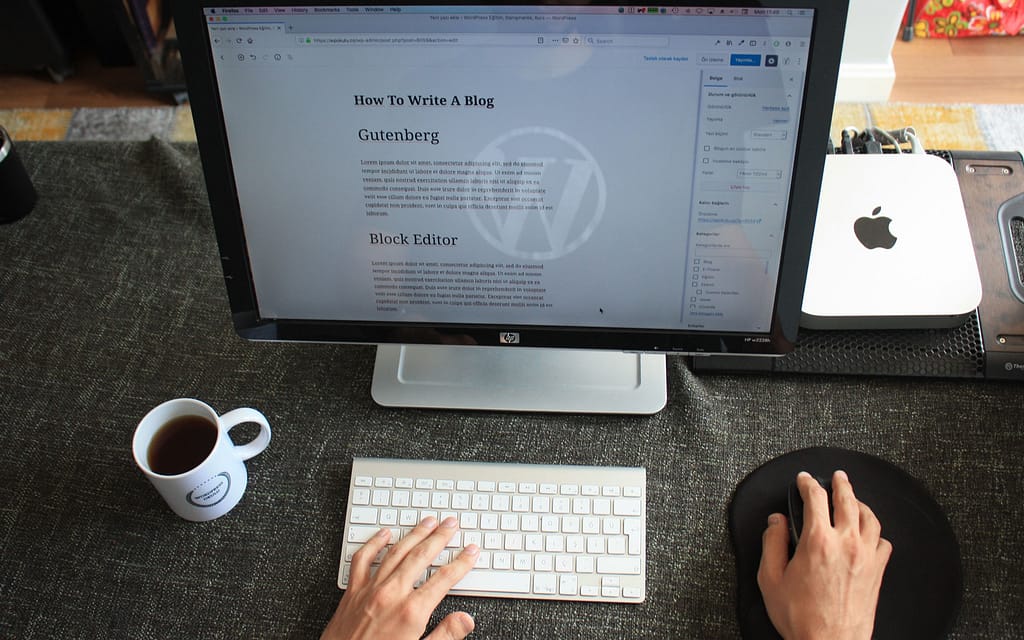 It's true that building websites does not require the level of technical knowledge it used to, especially with so many modern Web services striving to make the process as newbie-friendly as possible during the last five years or so. Having said that, it's still too daunting a task for anyone not familiar with basic Web principles and practices, let alone everyday people who are often not that familiar with using computers and the Internet in general.

WordPress has always served as an example of how smart platforms and tools can make such tasks easier for the mainstream, but even that is nowhere near as friendly as it would need to be for average Joe or plain Jane to just sit in front of a computer and put together a complete website in, say, a day.
How about in an hour or even in a minute, then?
Two recent initiatives based on WordPress – they were under development for some time but their unveiling overlapped a few weeks back – follow markedly different approaches to achieve the same thing: make the process of getting a new website up and running as fast and painless as humanly possible, while maintaining all the customization options and extensibility the vast WordPress ecosystem. They deserve a look because they just might mark a turning point: the one we'll all remember as "the great opening of the floodgates", the first true sign of WordPress finally going mainstream, for years to come. Shall we?
The Ollie theme setup wizard: so obvious, it hurts
The first example of how a bit of "out of the box" thinking can make the process of setting up a new WordPress website decidedly less painful – so easier for more people to complete without too much fuss – is Mike McAlister's "onboarding routine" for his modern, block-based WP theme, Ollie. This offers something that it's hard to believe nobody has thought of implementing before and something that Automattic (the company managing WordPress) would do well to keep an eye on: a setup wizard. This takes the user through a number of easy-to-understand steps in order to put together the overall structure, as well as the basic look and feel, of a complete website.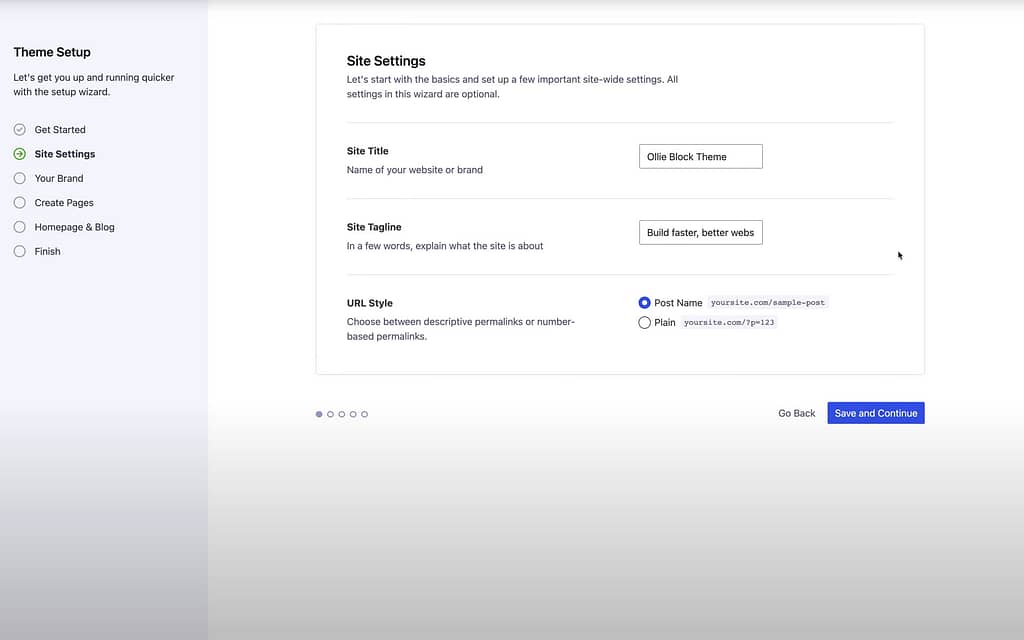 Anyone who's ever tried to build a website using WordPress gets how important this setup wizard can be. It's an elegant solution to the "blank canvas" problem all inexperienced WordPress users face (and are often discouraged by): right now, after setting up a clean WordPress installation it's anything but obvious what anyone should do in order to put together a website. You know, simple stuff: homepage, header, footer, logo, navigation menu, a few necessary pages… everything needed for a basic website that one can shape and expand as much as he/she likes later on. This setup wizard takes care of all of that step-by-step, doing some smart stuff in the background so that when the process is complete, one can just visit his/her new website in fully functional form.
Funnily enough, experienced users will also appreciate this setup wizard simply because it can save them time. Even if one knows exactly what to do in order to put together a new WordPress website from scratch, a number of basic settings are scattered in so many different WordPress sections that it's just a hassle to go through them one by one: name, tagline, permalink structure, color palette, site icon, blog page, plus all the "newbie" stuff mentioned earlier. The setup wizard gathers all of that in one place and it can even create a child theme at the final step of the process, so experienced WordPress users can do extensive experimenting with Ollie without affecting the original theme.



The Ollie theme setup wizard is obviously not targeting complete newbies, i.e. people with no prior knowledge of the Web or WordPress whatsoever: it requires a clean installation of WordPress and the Ollie theme already installed. Practically every Web hosting provider, though, has streamlined the process of setting up a new WordPress installation – after that, it will be just a hop to the official theme directory from within WordPress in order to install and activate Ollie. The theme's setup wizard can then take over.
The Ollie theme is available to everyone for free through its official website and the setup wizard is already included in the theme file offered there. It will be available through the official WordPress theme directory at some point over the next few weeks. If that setup wizard proves to be popular enough – as it deserves to be – expect other themes to come up with something similar in the future. As mentioned earlier, Automattic might want to keep an eye on this setup wizard too: an official way for all block themes to implement something along those lines in a common, streamlined way would definitely help the WordPress cause.
ZipWP: putting AI to work… creatively?
As helpful and time-saving as Mike McAlister's setup wizard for the Ollie theme can be, it does not have the disruptive potential of ZipWP, another new WordPress initiative aiming to help out inexperienced users or complete beginners make a website from scratch. This is where AI comes into play and – while what's a fancy way of describing smart routines working in the background, applying templates on the fly and filling various content blanks automatically – the minimal effort required for putting together a basic ZipWP website is nothing short of astounding by any standards.



ZipWP claims it can create a "first draft" of a WordPress website in 60 seconds (!), which would have been an absolutely outrageous suggestion… if it wasn't essentially true. The service works like this: it takes the user through a number of steps, collecting information about the website it will be putting together, while helping out during each stage using AI to accelerate the process. After users have entered basic stuff for the website they want to create – such as the name and category of business, a short description of what the business is etc. – ZipWP selects an appropriate template, writes all of the necessary copy itself, offers different options for the photos it selected based on that description, adds click-to-action buttons, it even creates a proper contact page and form. Then, in nearly 60 seconds (give or take), it actually presents the user with a complete website he/she can preview on the spot.
It's mightily impressive stuff. It may seem like magic indeed in the eyes of anyone who's tried to put together a basic website fast (WordPress-based or otherwise). Contrary to what other AI-based website builders tend to do, ZipWP seems able to deliver on its initial promise: it creates a fully functional "first draft" of a website that users can immediately test, then tune to their liking. Crucially, not only is this still editable on every level, it's also a fully-featured, complete WordPress website: it retains all the flexibility and expandability of any normal WP site, plug-ins included. ZipWP is even completely free to use by everyone interested in doing so!
Since "free" is a complicated word in the context of online services, there are a couple of caveats the creators of ZipWP are open about – plus a couple of others that only become apparent later on. The number of websites created via this service in a single day, for instance, will be limited and every one of them will have a mere 24-hour lifespan: they all expire and are automatically deleted after that. This is inconvenient but reasonable: it's that "first draft" of a new website most users are interested in, after all, and there's plenty of time to go through the initial process of putting it together, maybe tinker with it for a bit, then back it up in order to transfer it someplace else – that is, on another server – and actually publish it.



That's the first real catch: not everyone knows how to take a complete backup of a WordPress website and restore it on another hosting company's server – something of an issue when a sizable percentage of the people ZipWP aims to attract are inexperienced. Sure, they can "Google it" or have someone else do it for them, but neither solution is guaranteed to solve this problem. It would be great if, in its final form or soon after its launch, ZipWP offers an easy, fool-proof, ideally one-click way for those people to take their "first draft" of a website off the service. Many of us may know how to install a free WordPress plug-in and do it ourselves in a couple of minutes, but non-technical people do not and, honestly, they are not supposed to.
The second catch: all that smart putting together of a proper website in the background, based on broad instructions and keywords, depends on a specific WordPress theme called Astra and a number of ready-made templates for it. It's an extremely popular theme in the WordPress world, but inexperienced users are not aware of the implications the choice of any "classic" theme can have: if, at some point in the future, they outgrow that first version of their website and need to make serious changes or extensive modifications to it – usually done by switching to a different WordPress theme – they will have to basically build the same website from scratch.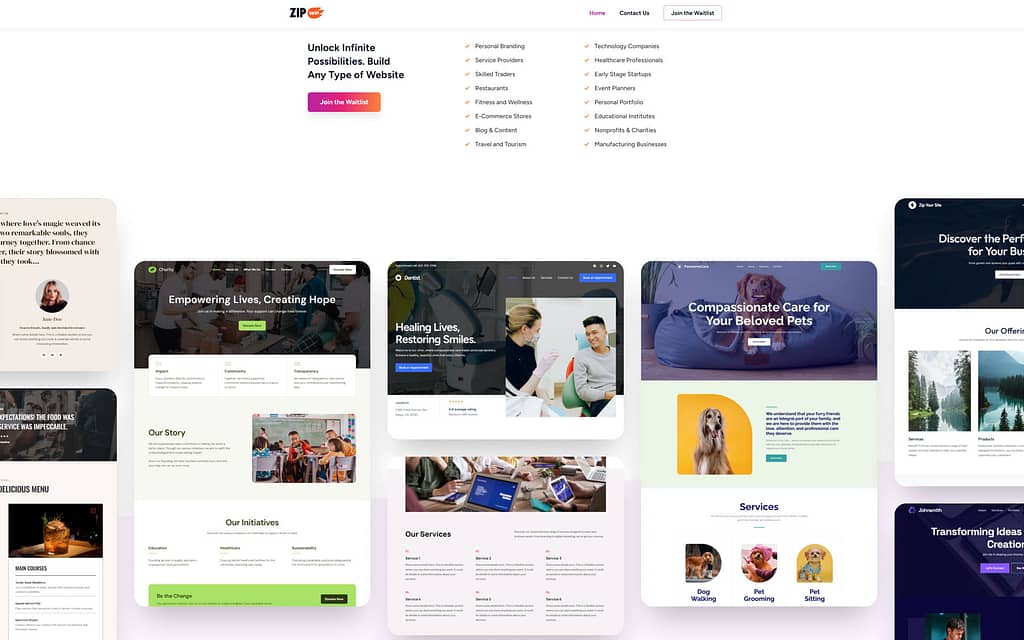 That's true for every WordPress theme and theme switching in general – and that "first draft" had to be based on something – but being locked in a specific theme and "breaking out" of it later on can be frustrating and costly for anyone, let alone inexperienced WordPress users. Plus, Astra – ZipWP itself, actually – belongs to Brainstorm Force, a company that made some controversial choices in the past and one that, through this service, will have access to a lot of user data over time. That's, ironically, an issue with a number of otherwise extremely useful, and extremely impressive, AI-powered Web services of any kind as of late.
ZipWP is still in development, but it's approaching 1.0 status and is expected to launch soon (word has it that it'll be available to everyone by the end of September or early October). Yours truly has joined the service's waitlist some time ago and will definitely be taking it for a spin – if nothing else, out of journalistic curiosity – to see whether ZipWP truly delivers on its promise and how transparent it means to be in terms of user data handling. This service really has the potential to disrupt the ages-old approach to WordPress site building (be it through classic or modern block themes) so here's hope that it can do just that.
Coming soon to a browser near you: website building for everyone
The two examples singled out above, Ollie's setup wizard and the ZipWP service, tackle similar problems in different ways, producing different results. One thing is clear, though: by striving to make WordPress itself much more accessible to inexperienced, non-technical users, they are also paving the way for more tools and services of this type, changing the process of building websites for ever. More than 40% of the Web is based on WordPress, so this is potentially a big deal for everyone: should these and other such solutions become mainstream in the near future, pretty much every Internet user would be able to have a personal or business website of his/her own. That's huge.



All this is not happening in a vacuum either. AI-powered services about everything and anything are cropping up practically every day, so more website-building ones are sure to arrive in due course. There are already a few out there – such as Framer, Durable or Hocoos – that leave a lot to be desired right now but will surely evolve in time. What's more, even established Web platforms – such as SquareSpace or Wix – will be incorporating AI routines not just for content creation, but for complete website building, ZipWP-style. Traditional Web hosting providers are getting in on the action too, as 10Web has already done with its Elementor-based website AI builder.
There's probably no way back from this: once a few of these services and tools reach a certain level of maturity, the snowballing effect will be felt across the Web building industry and beyond. What used to be a set of specialized skills combined with a wealth of technical knowledge – acquired by coders and designers alike – may eventually be replaced by a few dozen mouse clicks and an hour of sitting in front of a computer. As harsh as it might sound to these professionals, this can only be a good thing long-term. Everyone deserves a basic presence on the Web after all, right?